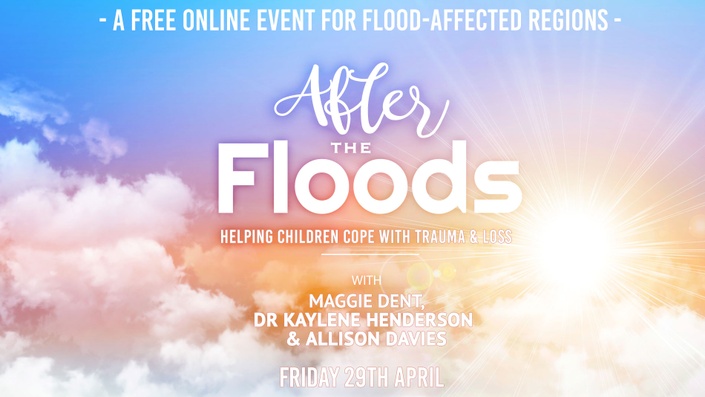 After the floods: Helping children cope with trauma & loss
with Maggie Dent, Dr Kaylene Henderson & Allison Davies
A free online event for flood-affected regions.
Join us live on Friday 29th April, 5.30pm (Sydney time) or watch the replay in your own time...

With the recent flood disasters along the east coast of Australia, many families are in a state of huge upheaval. So many children and their parents are living with enormous uncertainty and loss – dislocation from their homes and schools, loss of familiar routines and comforts, and everywhere they go, they see reminders of destruction.
Parents and others in our community face a huge task of not only rebuilding their lives and neighbourhoods, but in supporting their children to feel safe.

In this free online event, three parenting educators come together to share their strategies for supporting our children and teens to manage the anxiety that is inevitable after surviving a terrifying ordeal such as the 2022 floods.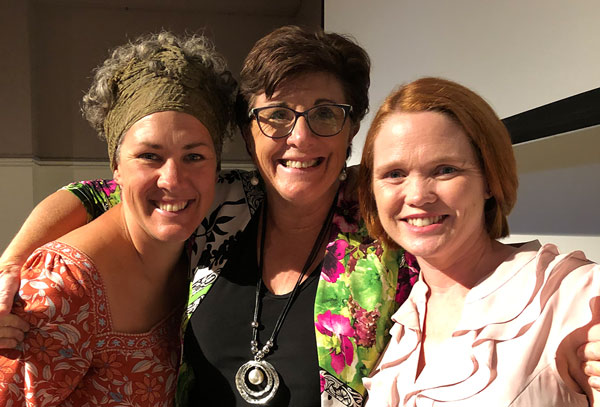 Some of the aspects of this flood disaster our speakers will endeavour to explore are:
> understanding trauma and how it works
> how do children physically and emotionally respond to trauma?
> strategies & exercises to help rewire the trauma/anxiety pathway (ie when it rains)
> supporting your children when you also feel distressed
> how to support your kids when facing one challenge after another
> helping kids and teens cope with loss
> particular suggestions for adolescents
> rebuilding hope in uncertain times
> the role of music in supporting us at these times
> particular suggestions for autistic children and adults in the wake of disaster.
This free event is specifically for parents and people who support families, in flood-affected regions on the east coast of Australia... please share it among your school and community networks.
Watch this on your device whenever suits you.

Join us live from 5.30pm on Friday 29th April — or watch the video replay whenever you like.
The presenters will speak for approx an hour and then there will be time for some questions. Participants will have the chance to submit questions ahead of time or ask a question live.
An audio-only version will also be available for those who prefer to listen to the content. Once you sign up you will receive access to the participant area where you'll find the special link to join the webinar via Zoom.
Extra resources…
Everyone who registers will receive some bonus resources from Maggie, plus links to further information and resources that might be useful.
Your hosts
Maggie Dent
Maggie Dent is one of Australia's favourite parenting authors and educators, with a particular interest in the early years, adolescence and resilience. Maggie's experience includes teaching, counselling, and working in the palliative care/funeral services and suicide prevention. She is the author of eight major books, including the bestselling Mothering Our Boys and the 2020 release From Boys to Men. She hosts the ABC podcast, Parental As Anything and in 2021 released a book of the same name. In May 2022, Maggie will release her latest book Girlhood: Raising our little girls to be healthy, happy and heard.


Dr Kaylene Henderson
Dr Kaylene Henderson is a medically trained child health specialist, trusted professional development provider for the early years sector and one of Australia's leading parenting experts. She's also a mother of three young children. In her warm and relatable style, Kaylene shares practical, research based advice with parents and professionals alike hoping that together, we can bring out the best in the children for whom we all care. More on Kaylene at: drkaylenehenderson.com


Allison Davies
Allison Davies creates online resources for parents, educators and support staff and works with schools to deliver professional development around the topics of childhood brain development and the use of music as a regulatory tool. A former Registered Music Therapist of 16 years, Alli left the Allied Health industry in 2021 in order to align her work more deeply with culturally responsive practices and to switch her focus from individual change to socio cultural change. Alli is an autistic person with attention, sensory processing and executive functioning difficulties. She works within a neurodiversity framework that favours deep acceptance and regulation over assimilation and intervention, and shares her lived experience of autism openly within her seminars, workshops and conferences as part of her 'emotive storytelling mixed with science' approach to education. More on Alli at: allisondavies.com.au/
Frequently Asked Questions
When does the webinar start?
The live event will be on Friday 29th April at 5.30pm (Sydney time). You can join us live via Zoom or watch the replay whenever suits you.
How long do I have access to the webinar?
1 year. After signing up, you have 1 year's access to the content - across any and all devices you own. Just come back to this website and login!
I already signed up but can't find the participant area.
If you have already signed up, login to the
participant area here
. You can also use the Login link in the website menu and will find your webinar under the menu link 'My Content' - available once logged in.