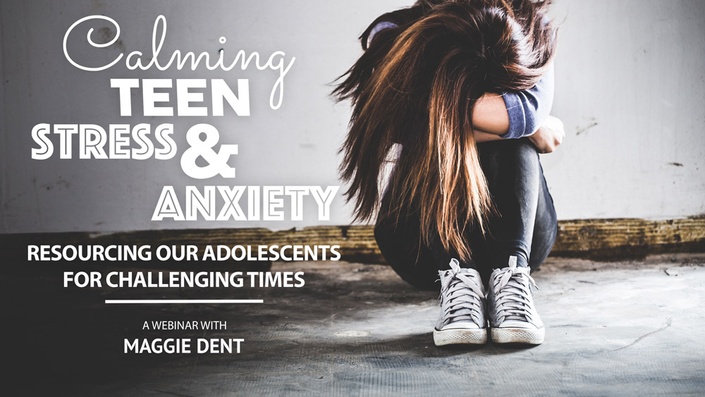 Calming Teen Stress and Anxiety
Resourcing our adolescents for challenging times. A webinar with Maggie Dent.
Get lifetime access to the replay and additional resources.
For parents/carers & educators. Teens 14+ welcome.
Stress and anxiety are not all bad. In fact, they can become a super power at times. When they are unhelpful and problematic, though, we can learn new habits that can change our neurochemicals and our emotions and transform that inner dialogue!
Adolescence is by nature stressful because there is so much change and uncertainty – often invisible stuff – happening in our brains and bodies.
Add to this the busy pace of life today and the stresses and pressures that come with that and we see that our teens are being impacted – and this was happening even before the global pandemic!
In this webinar, parenting author, educator and former high school teacher and counsellor Maggie Dent will explore stress and anxiety and how adolescents (and their parents/carers) can better understand and cope with it.
In this session, Maggie will:
→ explore the many reasons why teens can struggle with stress
→ share the neuroscience around anxiety
→ teach about neurochemicals and how they can be changed
→ help teens create their own map of stressors and helpful strategies
→ explore latest information about lowering stress holistically
→ show you how to build and nurture inner bravery
→ explore the importance of connection and communication
→ show how parents can help
→ share help-seeking strategies/helpful sites and resources.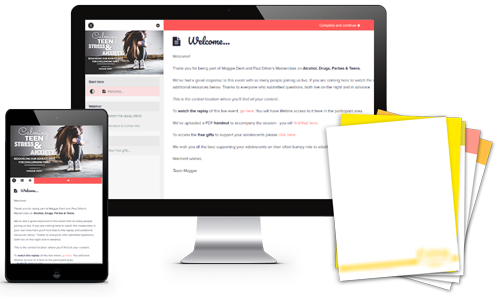 Join Us
Let's resource our teens and their parents/carers to to better cope with stress and anxiety.
Please encourage your teens (14+ recommended) to join you in watching this webinar as it's a great way to open up conversations about their mental health and self care - see FAQs below if you have questions around this.

Maggie shared some valuable tools for them to use to prevent stress and anxiety getting on top of them, and knowing what to do when it does. And if they don't want to join you, don't worry, you'll get loads of tips and strategies you can share with them
Watch on your device whenever suits you...
This event ran live in March 2023 ... watch the replay in your own time. It also includes a bonus Q&A.
An audio-only version will also be available for those who prefer to listen to the content. Once you sign up you will receive lifetime access to the participant area where you'll find everything you need.

Free gifts included...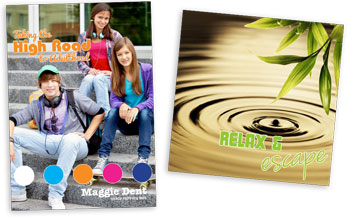 Everyone who registers will receive a copy of Maggie's eBook for adolescents, Taking the High Road and a free audio relaxation, Relax and Escape.
Plus...
As a handy reference, you'll also receive a PDF handout with notes and links to further information and resources.

Your Host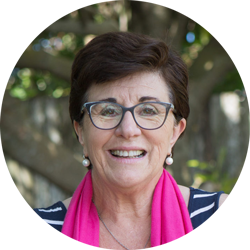 Maggie Dent
Maggie Dent is one of Australia's favourite parenting authors and educators, with a particular interest in the early years, adolescence and resilience – as well as being an undisputed 'boy champion'. Maggie's experience includes secondary teaching, counselling, and working in the palliative care/funeral services and suicide prevention. She is the author of nine major books, including 2022's GIRLHOOD, and the bestselling Mothering Our Boys and From Boys to Men. She hosts the ABC podcast, Parental As Anything and in 2021 released a book of the same name.
Frequently Asked Questions
When does the webinar start?
Whenever you like. We went live on 15th March 2023 but you can access the replay whenever suits you! And there's a bonus Q&A video too.
How long do I have access to the webinar?
How does lifetime access sound? After signing up, you have unlimited access to the content for as long as you like - across any and all devices you own. Just come back to this website and login!
What if I am unhappy with the masterclass?
We would never want you to be unhappy! If you are unsatisfied with your purchase, contact us in the first 30 days and we will give you a full refund.
I already signed up but can't find the participant area!
If you have already signed up, login to the
participant area here
. You can also use the Login link in the website menu where you will find your webinar under the menu link 'My Content' - available once logged in.
Can you provide me with a certificate of completion?
Yes. You will unlock the course certificate once you have marked all lectures as complete. The certificate will appear on the screen once you have completed the final content. Click the Download button underneath the certificate to save the certificate to your device.
My teen is younger than 14? Is it OK for them to watch the class?
Maggie is aiming the content in this webinar at a developmental age of approx. 14+ (and she may sensitively touch on some tricky topics such as suicide and self-harm). That is her recommendation. However, as a parent, you know your child best so if you think they are mature enough to get something out of it that is your call. Remember you get lifetime access, so you can always watch it first and decide after whether to watch the whole thing together.
Will this help my teen with their severe anxiety?
This webinar will be offering general information and tips for understanding and managing stress and anxiety. While there will be aspects of this that will be useful to pretty much everyone, anxiety can be a very serious mental health condition. So please understand that this webinar is not intended to be a substitute for professional medical advice, diagnosis or treatment. You should seek advice from a healthcare professional before making any decisions about your or your child's own circumstances.
If my teen (14+) is watching along with me, do I need to buy them a ticket also?
Maggie is happy for each family to just purchase one ticket to the webinar and watch it together. This webinar is all about supporting you and your teen to find some calmness, stillness and balance in facing the stresses of life as an adolescent.
(Prices displayed in Australian Dollars)
Are you interested in licensing this content for your school or organisation?
We offer a bulk purchase price on our webinars, masterclasses and online courses & conferences for schools and organisations.