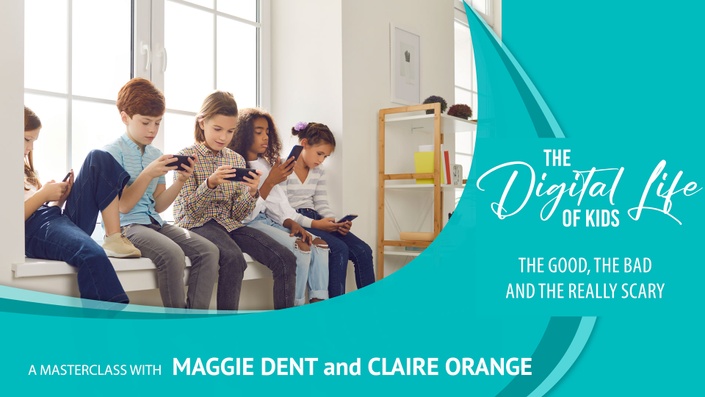 The Digital Life of Kids: The good, the bad and the really scary
A masterclass with Maggie Dent and Claire Orange
Watch Trailer
Maggie and Claire recorded this live on 13th February 2023. Sign up now to receive lifetime access to the replay and additional resources.
The influence of technology on our family lives and on our children's development, behaviour and friendships grows ever larger. While many of us may have grown up in houses with one tv, a VCR/DVD player and a landline with a cord attached to it, now the average household is full of screens. In 2020, just under half of Australian children aged 6 to 13, owned or had access to a mobile phone.

Even if your family lives a completely screen-free ethos at home, as soon as your child goes on a play date or hops on the school bus, they can be exposed to all the things you've protected them from by another child with a phone. Things such as porn, sexualised or violent or gory content are just a few clicks away.
Shows, music videos, games and social media are having a huge influence on our children's developing minds and identities from earlier and earlier ages. Technology is here to stay and as parents, we cannot bury our heads in the sand. We need to be aware of the complexities of digital life for our kids and help them to navigate this, just as we teach them other life skills.
In this very special masterclass for parents of toddlers to tweens, Maggie Dent is joined by mental health and child wellbeing specialist Claire Orange. Together, they explore how we can give our children the tools and skills to be – as Claire says – "safe, civil and savvy online".
Focusing on the toddler-12 age group, Maggie and Claire explore:

→ Developing regulation around technology that is designed to hook us and keep us hooked.
→ The appeal and benefit of screens for parents, children and in particular the positives for neurodivergent kids.
→ The risks of too much screen time… what is it displacing?
→ The dangers of exposure to porn and violent content
→ What you need to know about the digital life of your kids in the 3-8 age bracket, and those aged 8-12.
→ Digital life and friendships – it's all on show!
→ Temperament and its contribution to social issues on and offline.
→ How to assess if your child is ready for a device or smartphone.
→ What your alternatives are when 'everyone else is doing it' or at least doing it differently from you.
→ What's safe and what's not, particularly in relation to apps? What are the best apps for connection between kids? What are the worst apps that might be putting them at risk?
→ Minimising harm in the home and when they're not under your roof.
→ The pointy end – digital harm such as sextortion, cyberbullying and grooming, what to do and where to go when it happens.
→ Setting up healthy habits for the whole family for the year ahead.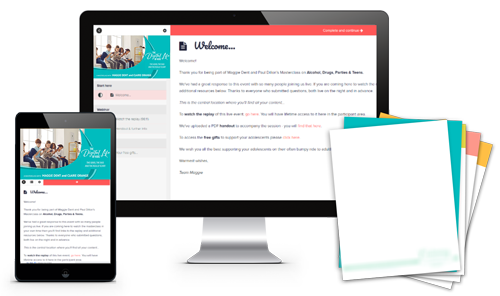 Join Us
This highly practical masterclass brings together these two very experienced, down-to-earth, wise presenters to help families of children up to around 12 years of age better navigate the digital world – the good, the bad and the downright scary. This session isn't about scaremongering… with their inimitable humour, compassion and common-sense, Maggie and Claire will empower you to support your kids to have more healthy, safe experiences online.
Watch on your device whenever suits you...
The masterclass is presented in the format of a webinar hosted by Maggie and Claire. The session runs for approximately 1.5 hours including Q&A. Once you sign up you will receive access to the participant area where you'll find the video of the webinar as well as download links for the supporting resources. An audio-only version of the webinar will also be available for those who prefer to listen to the content.
Free gifts included...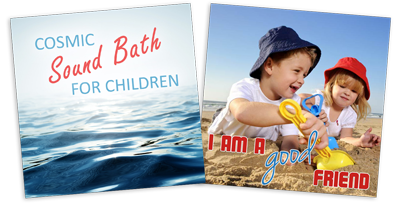 Everyone who registers will receive two free audio tracks from Maggie, I Am a Good Friend and Cosmic Sound Bath for Children to support your child with their social and emotional skills' development, and to lay down some calming neural pathways.
Plus...
As a handy reference, you'll also receive a PDF handout with notes and links to further information and resources.

Your Hosts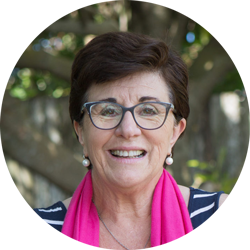 Maggie Dent
Maggie Dent is one of Australia's favourite parenting authors and educators, with a particular interest in the early years, adolescence and resilience – as well as being an undisputed 'boy champion'. Maggie's experience includes teaching, counselling, and working in palliative care/funeral services and suicide prevention. She is a dedicated advocate to quietly changing lives in our families and communities. She is the mother of four sons and a very grateful grandmother.
Maggie is the author of nine major books, including her 2022 book Girlhood:Raising our little girls to be healthy, happy and heard, the bestselling Mothering Our Boys and the 2020 release From Boys to Men. She hosts the ABC podcast, Parental As Anything and in July 2021 released a book of the same name.

Claire Orange
Claire is the co-Director of BEST Programs 4 Kids where she's co-authored 16 award-winning books on children's mental health and wellbeing used by parents and schools around the world. She's also the founder and CEO of DiGii Social – a world-first safe social networking platform for children where they can put their digital life training wheels on and get skilled up to be safe, civil and savvy online before being given open access to the internet.

Like Maggie, Claire is a mum of four boys (something they bond over regularly). She is also a qualified Speech Pathologist with a Bachelor of Science in Speech and Hearing Science (Hons) and has further qualifications in Naturopathy and Homeopathy, Psychology and Counselling, Parent Coaching, Clinical Hypnotherapy, NLP, Family Therapy and Cognitive Behavioural Therapy.

Frequently Asked Questions
When does the masterclass start?
The event was live on 13th February 2023. Now you can access the replay whenever suits you!
How long do I have access to the masterclass?
How does lifetime access sound? After signing up, you have unlimited access to the content for as long as you like - across any and all devices you own. Just come back to this website and login!
What if I am unhappy with the masterclass?
We would never want you to be unhappy! If you are unsatisfied with your purchase, contact us in the first 30 days and we will give you a full refund.
I already signed up but can't find the participant area!
If you have already signed up, login to the
participant area here
. You can also use the Login link in the website menu where you will find your webinar under the menu link 'My Content' - available once logged in.
Can you provide me with a certificate of completion?
Yes. You will unlock the course certificate once you have marked all lectures as complete. The certificate will appear on the screen once you have completed the final content. Click the Download button underneath the certificate to save the certificate to your device.
(Prices displayed in Australian Dollars)
Are you interested in licensing this content for your school or organisation?
We offer a bulk purchase price on our webinars, masterclasses and online courses & conferences for schools and organisations.