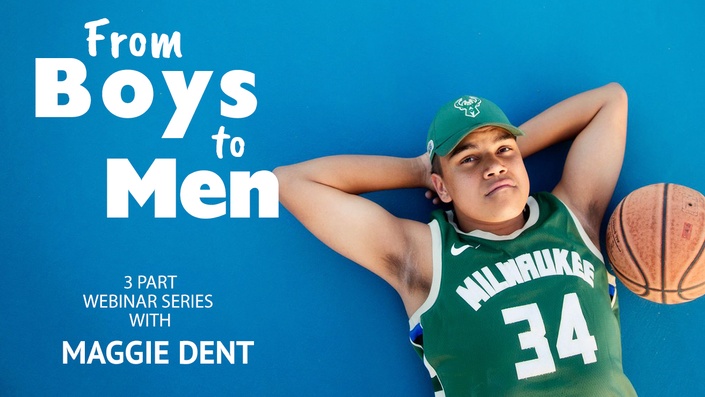 From Boys to Men Webinar Series
For anyone living or working with boys 12-25
Based on her bestselling book, Maggie Dent presents...

3 webinars, 4.5 hours & lifetime access to the content
Teen boy communication that really works
'Unsticking' an unmotivated teen boy
Helping teen boys manage anger and failure
... watch the replays in your own time.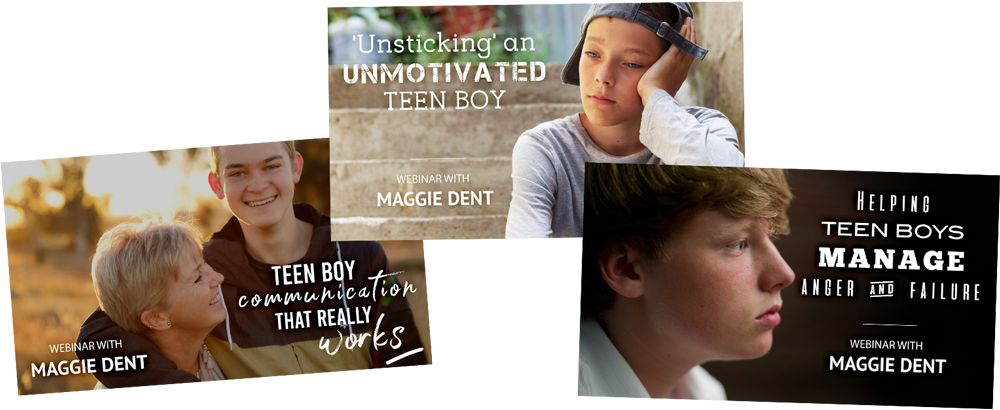 $30/webinar or $60 if you sign up for all three now!

This special webinar series takes a deep dive into Maggie Dent's successful 2020 book From Boys to Men: Guiding our teen boys to grow into happy healthy men . In three separate online events, Maggie explores key aspects of the book, including communication, motivation and helping boys navigate anger and failure.
In her book and in this webinar series, Maggie's goal is to empower parents and guardians with insights, tips and a common-sense approach to help you support the boys in your life to thrive as they progress through adolescence — offering hope for a future of adventure, stability, engagement and connection.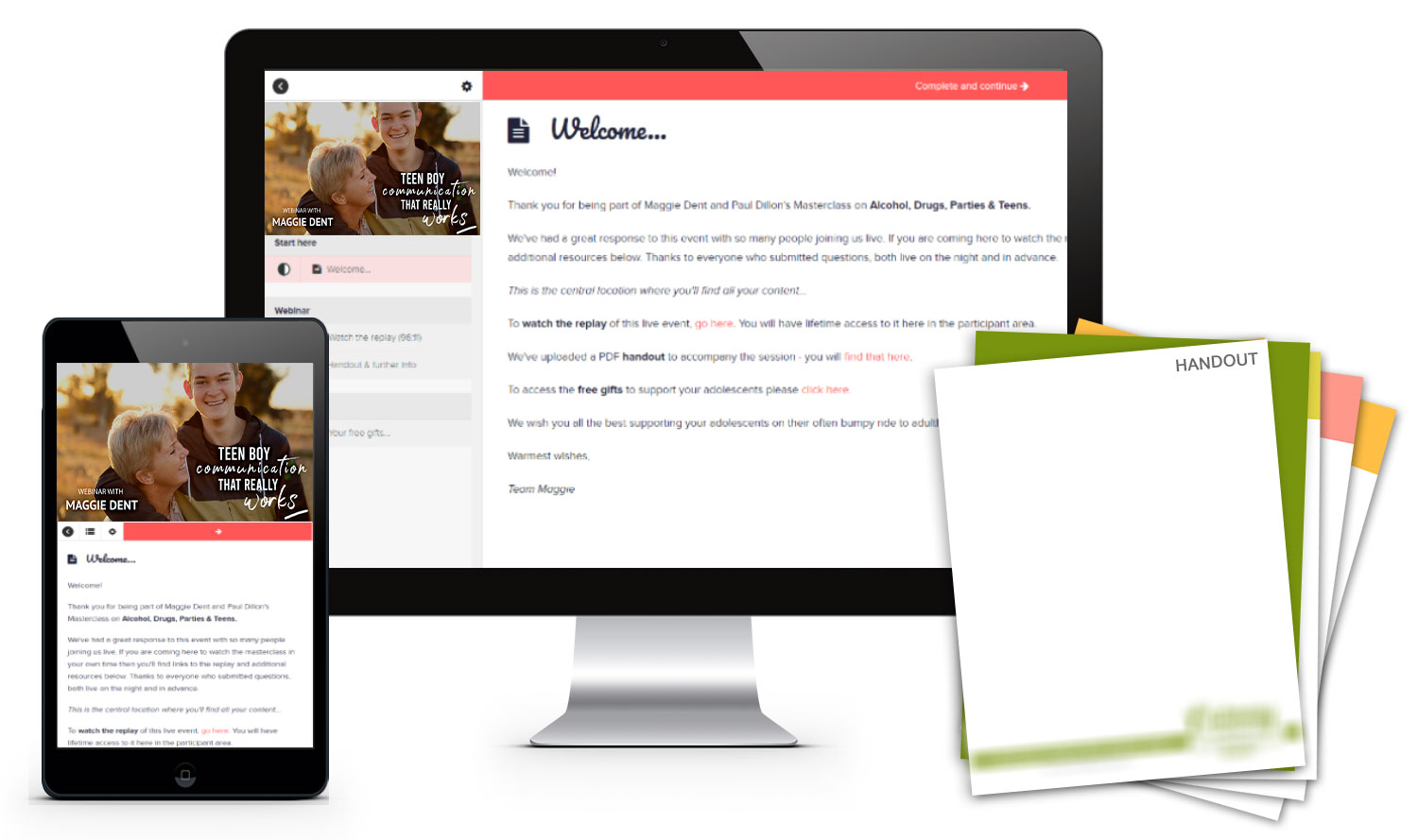 WEBINAR 1: Teen boy communication that really works

This event ran live on Thursday 25th February...replay now available.
Have you found communication a challenge since your son hit adolescence? You are not alone if your formerly sweet boy is now communicating with you in monosyllabic grunts and everything you say seems to annoy or upset him enormously. In this webinar, Maggie explains what's going in our teen boys' brains that makes them feel more sensitive, critical of themselves and others, and volatile. She explains how parents and people who work with teen boys can use warm, caring, empowering communication with the lads in their lives – communication that helps them cross the bridge to manhood to a place where they feel worthwhile and engaged in respectful relationships.
Maggie explores ways to:
» communicate effectively
» offer feedback without hurting your son's feelings
» avoid arguing
» help your son solve problems for himself
» get teen boys to listen
» let your son know you're really hearing him & he matters.
Includes bonus freebies: Taking the High Road ebook and Cosmos Sound Bath audio track.
Purchase individually for $30 or...
WEBINAR 2: 'Unsticking' an unmotivated teen boy

This event ran live on Tuesday 23rd March...replay now available.
It's very common (but also pretty exasperating) for tween and teen boys to become unmotivated about things like schoolwork, tidying up after themselves or changing their clothes. While these things might matter to parents and teachers, there are many biological, neurological, physical, hormonal and psychological changes that make motivation challenging for the average adolescent boy. While we hope the situation is temporary, it can become a permanent mindset so in this webinar Maggie shares some practical things we can do (and things we should avoid) at home and at school to 'unstick' a son whose motivation is stuck. This will be helpful whether you have a 14-year-old who you just can't understand or an 18-year-old you can't get off your couch.
This webinar will explore:

» what motivates boys to do well (and it isn't stickers and trophies!)
» how to build a boy's autonomy
» the power of positive noticing
» the three keys to motivation
» why school often demotivates boys (especially middle school)
» supporting boys at school & re-engaging reluctant boys
Includes bonus giveaways: Creating Success and Dare to Dream creative visualisation audios plus Maggie's Chill'n Skills ebook.
Purchase individually for $30 or...
WEBINAR 3: Helping teen boys manage anger and failure
This event ran live on Thursday 22nd April... watch the replay whenever suits you.
We all get angry from time to time, it's a normal human emotion. However, because of what's happening in their brains and bodies – and because of the deep conditioning that anger is a more acceptable emotion for males than, say, sadness – teen boys can particularly struggle with their anger. For those of us living or working with teen boys, it can be challenging to respond calmly and compassionately when faced with an adolescent's immature, explosive reaction contained within an often-man-sized body. In this webinar, Maggie looks at why anger is not the problem, more a symptom of a deeper concern. She explores why teen boys' poor choices, mistakes and failures often lead to anger and despair – and how we can better respond to help our boys cope and recover from muck up moments.
Maggie will unpack:
» ways to coach our teen boys to better manage their anger and understand the feelings under it
» tips for helping boys physically diffuse their feelings
» why failure & poor choices often trigger 'big ugly feelings'
» dismantling the old man code to teach the power of vulnerability
» Reframing failure and loss
» how to respond when your son makes a poor choice
» exploring resilience and recovering from setbacks.
Includes bonus giveaways: Relax and Escape and Secret Mountain audio relaxation tracks plus 'A Dog's Life Wisdoms' ebook.
Purchase individually for $30 or...
Sign up
These webinars offer a highly practical and compassionate guide for anyone supporting boys 12-25 as they traverse the road to adulthood.


Maggie ran these webinars live in Feb, March and April 2021, and each included some insightful questions from our community.
You can sign up anytime to have lifetime access to the participant area where you can watch the replays and download all the additional resources.

You will also receive...
All these free gifts

Everyone who registers will receive free gifts in the form of ebooks and/or audio tracks. Each webinar comes with unique giveaways – all of which will offer you additional tools to supporting the adolescent boys in your life.

30% off these resources

30% off the book
If you haven't already read From Boys to Men and you'd like a copy to have as a companion to this online offering, we are giving 30% off the print edition for everyone who signs up to the webinar series. Please note this offer is only for purchases from maggiedent.com and not available outside of Australia.
30% off Saving Our Adolescents Video Seminar
A great complement to this course, this is a 1.5hour video presentation available online or as a DVD in which Maggie decodes some key concerns about our adolescents, what is going on in their brains and how we can better communicate with and support them.

30% off Adolescence Unplugged online course
This is a deeper dive into raising adolescents and contains lifetime access to six modules of content from Maggie and guest experts for anyone living or working with adolescents. The course covers why adolescence is like A Hero's Journey, brain development, teen girls, teen boys, sex and drugs and technology, and helping them find their spark. Our webinar series guests save $58.

...and a handout
As a handy reference, you'll also receive a PDF handout for each webinar with notes and links to further information and resources.

Your host

Maggie Dent
Commonly known as the 'queen of common sense', Maggie Dent has become one of Australia's favourite parenting authors and educators. She has a particular interest in the early years, adolescence and resilience, and is an undisputed 'boy champion'. She is the author of 7 major books, including the bestselling Mothering Our Boys, the 2020 release From Boys to Men and host of the ABC podcast Parental As Anything.
Frequently Asked Questions
When do the webinar series start?
It starts whenever you like. The live events have now passed (with our last one running on 22nd April 2021). So you can access the video replays, audio tracks and supplementary bonus resources and handouts at your own pace.
How long do I have access to the webinar series?
How does lifetime access sound? After signing up, you have unlimited access to the content for as long as you like - across any and all devices you own. Just come back to this website and login!
What if I am unhappy with the webinar series?
We would never want you to be unhappy! If you are unsatisfied with your purchase, contact us in the first 30 days and we will give you a full refund.
(Prices displayed in Australian Dollars)
Are you interested in licensing this content for your school or organisation?
We offer a bulk purchase price on our webinars, masterclasses and online courses & conferences for schools and organisations.