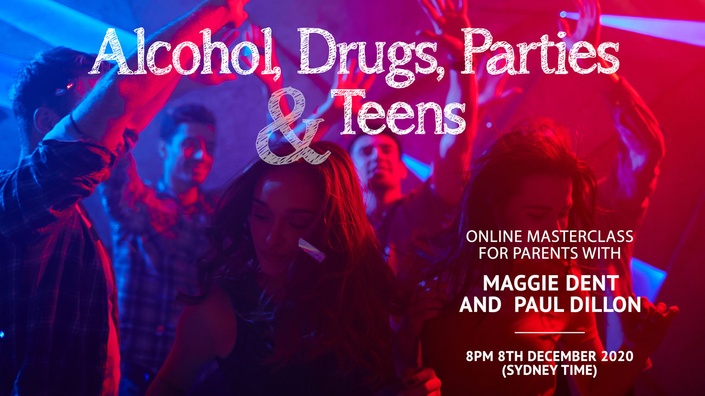 Alcohol, Drugs, Parties & Teens
Online masterclass with Maggie Dent and Paul Dillon
Join us live on Tuesday 8th December at 8pm (Sydney time) or watch the replay in your own time. Sign-up now for lifetime access to this masterclass....
One of the most challenging aspects of parenting adolescents is helping them stay safe and on track when they start making decisions about things like alcohol and other drugs, parties, vaping, driving and sex.
It's a different world today to when parents themselves were teens. We now know that it is important that we work with them rather than commanding and demanding of our young adults as they go through this process of growing up and gradually developing a mature brain.
In this special masterclass, parenting author Maggie Dent is joined by one of Australia's leading alcohol and other drug educators Paul Dillon to help parents better understand and communicate with their adolescents about these topics – often the source of angst and arguments in many homes.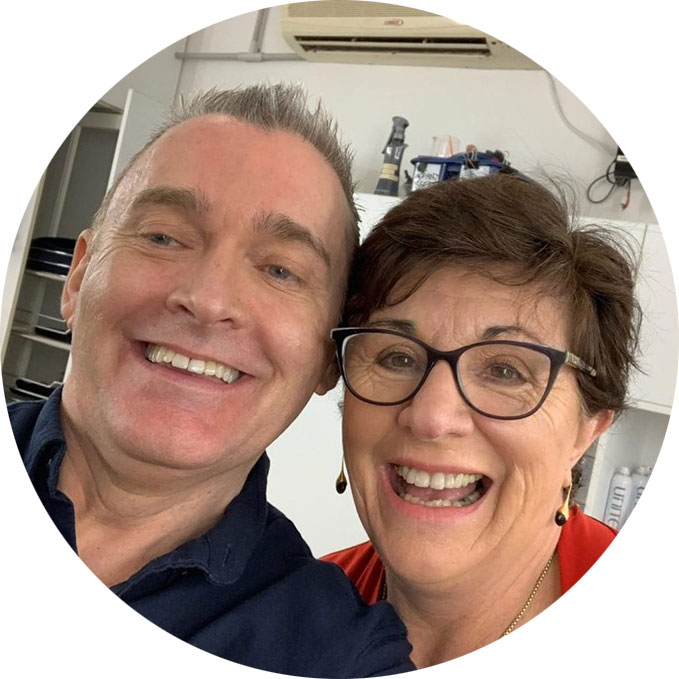 Maggie and Paul will explore:
» Alcohol – the risks and realities
» Other drugs such as cannabis, MDMA, nitrous oxide (nangs), hallucinogens, cocaine, ketamine, ice and prescription drugs
» Vaping
» Impact on mental health
» Identifying problem use
» Staying safer at parties, formals, festivals and beyond
» Alcohol, other drugs and driving.
Maggie and Paul both understand adolescence and, together, they will offer sound, common-sense guidance to parents about navigating the bridge to adulthood with their kids, from tweens to their twenties.


Audience Q&A will follow...
There'll be a live audience Q&A at the end of the session, and you'll also have the opportunity to submit questions ahead of time in case you can't join us on the day. Maggie and Paul will attempt to cover as many questions as time permits.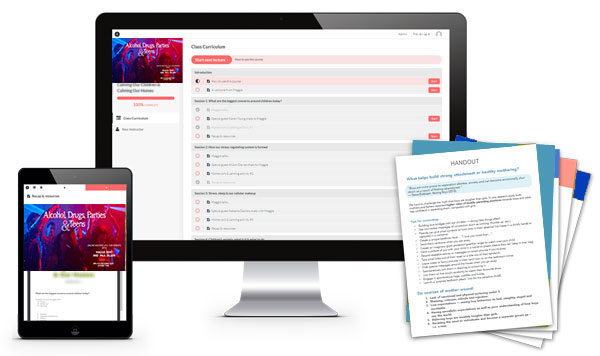 Join Us!
This highly practical masterclass brings together these two very knowledgeable, accessible presenters to help you explore the facts, the risks and the realities of alcohol and other drugs on adolescents and their lives. Please note this presentation is not designed for adolescents, but rather for parents of adolescents.

Join us live at 8pm (Sydney time) on Tuesday 8th December
...or watch the replay in your own time.
The masterclass is presented in the format of a live webinar hosted by Maggie and Paul. The session will run for approximately 1.5 hours and a video recording will be available for anyone who cannot join us live. An audio-only version will also be available for those who prefer to listen to the content.
Once you sign up you will receive access to the participant area where you'll find details for joining live plus all the additional resources.
Free gifts included...
Everyone who registers will receive free resources (worth $15), including the Chill 'n Skills ebook and an audio track, Relax & Escape to support adolescents with healthy stress management, managing life and building resilience.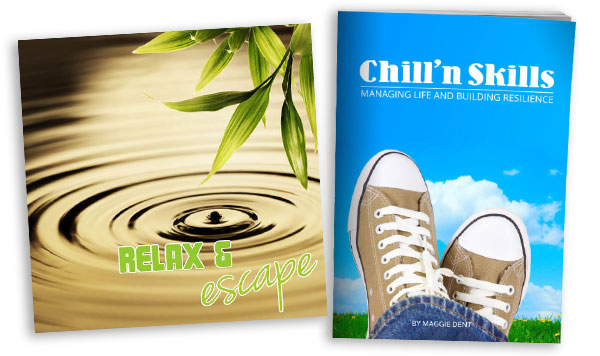 Plus...
As a handy reference, you'll also receive a comprehensive PDF handout with notes and links to further information and resources.
Your hosts

Maggie Dent
Maggie Dent is one of Australia's favourite parenting authors and educators, with a particular interest in the early years, adolescence and resilience. Maggie's experience includes teaching in secondary schools, counselling, and working in the palliative care/funeral services and suicide prevention. She is the author of 7 major books, including the bestselling Mothering Our Boys, the 2020 release From Boys to Men and host of the ABC podcast Parental As Anything.



Paul Dillon
Paul Dillon has been working in the area of drug education for more than 25 years. Through his own business, Drug and Alcohol Research and Training Australia (DARTA) he has been contracted by many organisations to give regular updates on current drug trends. He continues to work with many school communities across the country to ensure that they have access to good quality information and best practice drug education. In 2009 his best-selling book for parents was published titled 'Teenagers, Alcohol and Drugs' and has since been released internationally, being translated into a number of languages. With a broad knowledge of a range of content areas, Paul regularly appears in the media and is regarded as a key social commentator, with interviews on television programs such as Sunrise, TODAY and The Project. Paul also writes a blog where he discusses topical issues of the day, as well as addressing some of the questions and queries he is regularly asked by those attending his presentations.

Frequently Asked Questions
When does the masterclass start?
Join us live on Tuesday 8th December at 8pm (AEDT) or watch the replay in your own time. We'll email instructions for joining live and also send a link to the replay after the event.
How long do I have access to the masterclass?
How does lifetime access sound? After signing up, you have unlimited access to the content for as long as you like - across any and all devices you own. Just come back to this website and login!
Will I be able to ask Maggie and Paul questions?
Participants who join us live will have the opportunity to ask questions during the Q&A at the end of the masterclass. If you can't join us live, you will get the chance on registration to submit a questions before the masterclass. Maggie and Paul will endeavour to cover as many questions as feasible.
What if I am unhappy with the masterclass?
We would never want you to be unhappy! If you are unsatisfied with your purchase, contact us in the first 30 days and we will give you a full refund.
Get started now!
(Prices displayed in Australian Dollars)