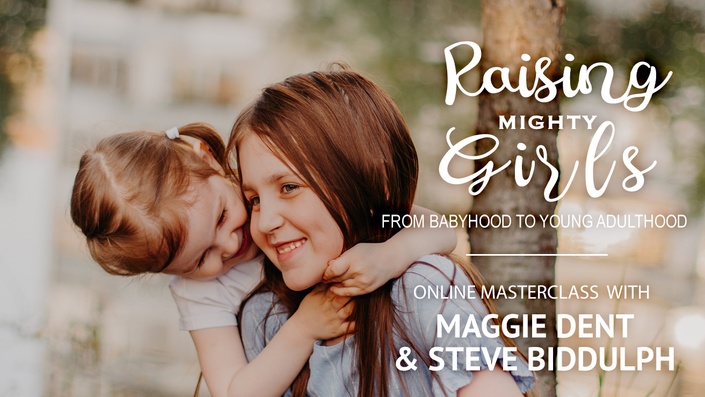 Raising Mighty Girls: From babyhood to young adulthood
An online masterclass with Maggie Dent and Steve Biddulph
This event ran live in late 2021. Sign-up now for lifetime access to the masterclass replay, bonus gifts and additional resources

From the moment we first look at our baby girl, we feel such intense love. We dream of how her life can go – happy toddler, schoolgirl, teenager, young woman. Girls have never had the freedoms or opportunities they have today. But they are also endangered – and at every age we have to work to make them strong and free. We need to start early in their lives to help them be capable, open hearted and self-valuing.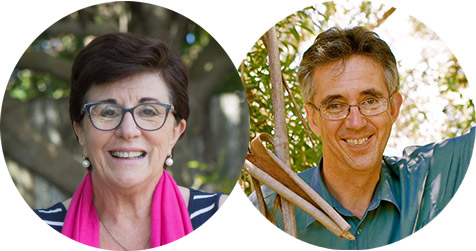 In this very special masterclass, Maggie Dent is joined by one of the world's best-known parent educators, psychologist Steve Biddulph, to empower parents in how to raise mighty girls – across all ages. Steve began campaigning for girls' mental health ten years ago, and his books and talks have stirred parents to anger and action all over the world. Dads, mums, aunties, grandparents and teachers all have a job to do, and he and Maggie will spell out just what that is in this unforgettable webinar.
Maggie and Steve share stories and strategies around:
→ There is a part of you that knows which way to go… how to find that again.
→ A map for your daughter - what she needs at the age she is, and how to make sure she gets it. And if she missed out, how to fix that now.
→ Why allowing our little girls a joyful childhood is the foundation for a happy womanhood.
→ Helping our girls with the challenges of friends, peer pressure and bullying.
→ Preparing our girls to cope with the teen years, where the rubber hits the road.
→ Social media - and how to tame it.
→ Unplugging the conditioning that steals girls' voices, and encourages them to be 'good' and 'nice'.
→ Helping our girls find a sense of self that is not defined by appearance.
→ The role of adults (mums, dads and aunts) in shaping our girls.


With warmth, humour, decades of experience and a good dose of open-heartedness, Maggie and Steve guide you in better understanding and supporting all our daughters.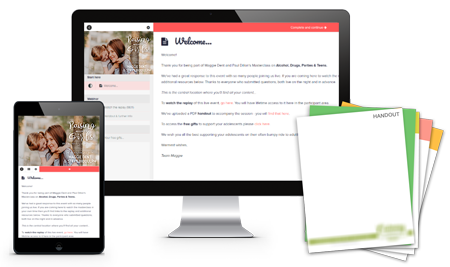 NB This is one of two very special and complementary events we ran for anyone who lives or works with girls. You may also be interested in our tween/teen girls' masterclass with Michelle Mitchell.
Sign Up
This highly practical masterclass brings together these two Australian legends (well, frankly, they are!) to help you explore practical ways to protect and prepare your daughters to grow up happy, healthy, strong and empowered.


The live session ran in October 2021 and you can now get lifetime access to the video and audio reply, plus all the additional resources.


Free gifts included...
Everyone who registers will receive two free audio tracks from Maggie, Accepting Myself and Soothing the Frightened Butterflies both designed to soothe anxious minds and build a sense of calm and acceptance in our girls.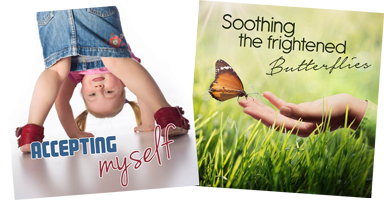 Plus...
As a handy reference, you'll also receive a PDF handout with notes and links to further information and resources.
Your hosts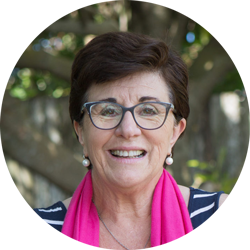 Maggie Dent
Maggie Dent is one of Australia's favourite parenting authors and educators, with a particular interest in the early years, adolescence and resilience – as well as being an undisputed 'boy champion'. Maggie's experience includes teaching, counselling, and working in the palliative care/funeral services and suicide prevention. She is the author of eight major books, including the bestselling Mothering Our Boys and the 2020 release From Boys to Men. She hosts the ABC podcast, Parental As Anything and in July 2021 released a book of the same name.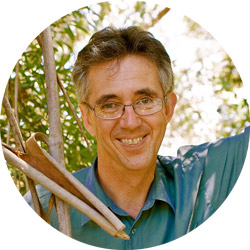 Steve Biddulph

Steve Biddulph has campaigned all over the world for better understanding of our daughters, and his books Raising Girls and Ten Things Girls Need Most are in 20 languages and have stirred parents to action everywhere. Steve's stories, which he will share in this masterclass, stay with you forever, and stir you to action, and help you know what to do. Steve is funny, humble, and incredibly moving to listen to, and he has worked with girls and their parents in every kind of trouble and situation. He was voted Australian Father of the Year for his work with dads.
Frequently Asked Questions
When does the webinar start?
It starts whenever you like! The live event ran of 7th October 2021 - you can now watch the replay in your own time.
How long do I have access to the masterclass?
How does lifetime access sound? After signing up, you have unlimited access to the content for as long as you like - across any and all devices you own. Just come back to this website and login!
What if I am unhappy with the masterclass?
We would never want you to be unhappy! If you are unsatisfied with your purchase, contact us in the first 30 days and we will give you a full refund.
(Prices displayed in Australian Dollars)
Are you interested in licensing this content for your school or organisation?
We offer a bulk purchase price on our webinars, masterclasses and online courses & conferences for schools and organisations.